Hiring Java Developers In India: The Good, Bad & Ugly | A Do-it All Guide
The Problem With Hiring Java Developers
"The project's ready for launch, but hey it all hangs in the hands of the Developer"
— A Random Project Manager at 03:00 HRS.
Uncannily true right? If you are in India or anywhere else in the world, you know quite well that developers and hiring do not go together. A beginner won't be able to take the mess that your project already is.
However, if it is the experience that you need, you got to pay for it!  Even before you look to hire java developers, you stay up at night after night googling "hire java developer".
The Nightmares With Hiring Java Developers
Every solution on your results page raises questions within you. However, the one that lingers is—
"What if I hire the wrong developer?" 
This is where a fun stat comes into play (Refer to the image)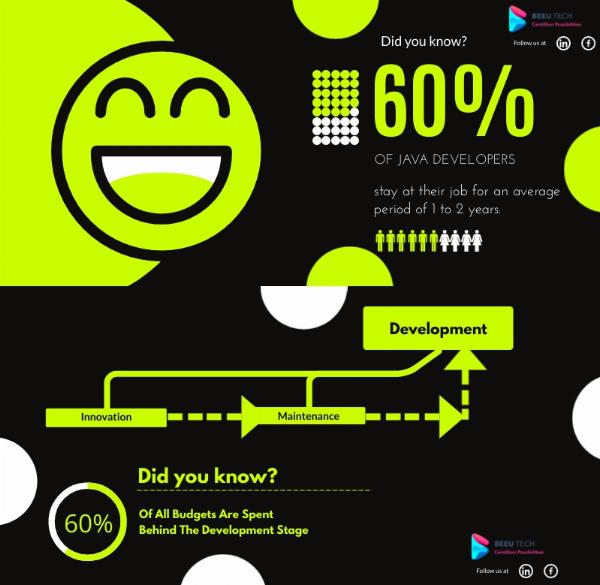 Chances always are that you will end up hiring a java developer who isn't right for you. Just take a look at the average hiring process.⏬
| | | | |
| --- | --- | --- | --- |
| Performance Metric | In-House Hire | Freelance Hire | Outsourced Hire |
| Time Taken | ♾️ | Immediate - ♾️ | 24 - 72 Hours |
| Degree of Control | High | Negligible | High |
| Replacement Costs | Extremely High | Low | Zero |
| Communication Level |  Extremely Good | Low | Extremely Good |
| No. of Interviews | Multiple | 2 to 3 | 1 |
| Cost Involved | High | Low | Adjustable |
| Budget | High | High | Adjustable |
| Project Execution Guarantee | Yes | No | Yes |
| Convenience | Medium | Low | Best |
Most java developers or any developers, do not stay at their job for more than a period of 1 to 2 years.
The idea is that development is an intense process, and anyone who is familiar with software development will know that development is a never-ending process.
So, how on earth do companies hire java developers? Let's be honest here okay! 
What Organizations Really Want When They Hire Java Developers?

When a company starts looking for a java developer for hire, the general things they want are:
⌚Timely Execution

✅Correct Execution

⛑️Dedicated Resources

🏃Agile & Adaptable Technology &

💵Execution In A Limited Budget
Thus, the real way is to outsource the development to java development companies. Now, you may wonder, is there any way to really trust organizations for hiring someone who will manage your project completely?
For starters, yes. With the help of binding NDA's, you can get ahead of your fears, and ensure that your project gets the front seat.