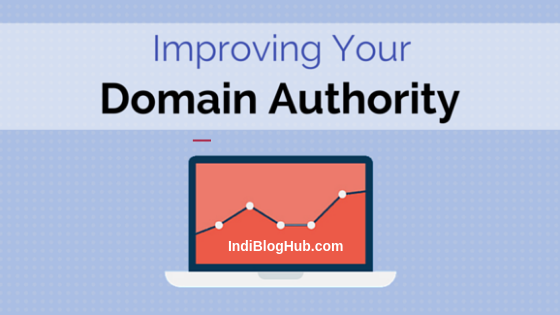 6 ways to Increase your domain authority in 2023 (Guide That Works)
Looking to improve your website's online presence in 2023? Check out our comprehensive guide on 6 effective ways to boost your domain authority. Our tried-and-tested strategies are guaranteed to give you an edge over the competition and help you achieve long-term success. Don't miss out on this valuable resource - start optimizing your site today!

Since so many of these websites with so much similar content are created every day, staying at the top rank in the search engines has become almost impossible. So, in order to make their websites obtain a good rank on search engines, bloggers use on-page as well as off-page SEO, Google page rank, and more.
But in this increasing competition to improve your authority score, rankings, and traffic on your website, you should know everything about 'Domain Authority.
Why Domain Authority Is So Important for Successful SEO
Domain Authority is a search engine ranking score (SERS) developed by SEO software company Moz, which estimates how well your website is working and provides a rating score from 1-100. Higher the score, the higher is the ranking of your website in search engines and more organic traffic your website will get.
Domain Authority or DA is a very important factor in SEO. Domain Authority is different for different websites. For beginners, the website gets rank between 10-20after for three months. Gradually, as the domain gets old, its DA increases. 
For a good domain authority, you should focus on getting higher DA than your competitors as domain authority is best used as a comparative metric.
For creative and effective web hosting, don't hesitate to visit Hosting Foundry.

Domain Authority is completely different from page authority. Though Page Authority also works on the same metric and algorithm but page rank analyses and rank any individual webpage, whereas DA analyses the whole domain. Moreover, a good DA depends on the domain authority of the sites you are competing with. 
Your prime objective should not be achieving the highest score instead of getting a score higher than your competitors.
Tools to Check DA or Domain Authority Checker:
Though there are many online DA Checker tools available for checking the position of your website, one of the best tools is Moz DA Checker or Moz Open Site Explorer. This online Domain authority checker will show you your latest DA score once you enter your site's domain address. The basis on which a website is given score is known to the company who invented it, Moz.
Around 40 different factors are checked by Moz's system to rank a particular domain address such as how old is your domain, how many links are connected to your website, etc. The DA of a website is never constant. It keeps on increasing or decreasing. Since Moz's authority scale is logarithmic it's harder to increase the authority score.
In simple words, since Moz DA Checker cannot give DA score above 100 to the highest authority websites thus other sites' domain authority gets lowered even if there is no loss in backlinks. Hence, your website's domain authority will be equivalent to the domain authority of the highest authority website.
6 Tips to improve the Domain Authority (DA) of a Website:
Increasing the DA of your website or blog means that increasing the probability of getting a high rank on the search engines. It is challenging to increase the DA and obtain a good score. By following given points, you can improve the DA score of your website-
1. Quality Link Building:
It is one of the most important factors which will help you in increasing DA score. Audit your link profile and try to get as many backlinks. Also, try to get links from high-authority and quality websites as it is considered as a symbol of the trustworthy website. It will take a lot of time to increase your DA score if you are using links from low-quality websites.
Moreover, a few free SEO tools such as SEMrush Backlink Checker, Moz's Link may help you strengthen your link profile by eliminating undesirable links.
2. Don't forget to enhance the interlinking: 
As you know linking is creating hyperlinks in your page or post. Interlinking is linking your article to other articles of your websites, which is related to your current article. Interlinking helps the reader to click and be redirected to the other article of your website.
Interlinking helps you to bring more organic traffic by increasing the number of page visits per user. It helps Google to crawl your website in a better way. Along with that, it increases the ranking of a particular keyword which will ultimately help you in increasing your domain authority.
3. Create Engaging Content (Remember, Content is always the KING):
Boosting website's engagement is another way to improve domain authority. In order to attract more readers and organic traffic, you should post engaging and high-quality content.
This will help you in engaging a loyal audience and in turn, rank your domain based on your content.
4. Boost the Speed & Make sure Your Website Loads Fast: 
The speed of any website is also considered as one of the factors to get a higher rank on Google's search engine page. Therefore, it is necessary to keep a check on the time your website takes to load.
The websites which do not take much time to load gets a higher rand on SERPs.
5. Social Media Marketing or SMM:
Social Media, these days is used as the best platform to market your website and its services. Use social media to get referral traffic to your website and increase the popularity of your brand. Social media provides you a platform for branding. Proper branding provides you exposure to your content and helps you to reach a large audience.
This is one of the best ways to reach a greater audience and rank your blog on Google's page. Once your audience will grow, it will directly affect your domain authority.
6. Search Engine Friendliness:
This refers to search engine optimization as well as user-friendliness of your website. The structure of your site can directly leave an impact on its usability. Providing poor site structure will make your site difficult to navigate.
It makes difficult for even search engines to crawl in your website which may decrease your rankings. Also, don't forget to optimize your on-page content including title tags and image alt tags. Ensure that your website is mobile-friendly since many users connect through their Smartphones. Moreover, to check whether your site is mobile-friendly or not, visit Mobile-Friendly Test by Google Developers.
It will analyze your web page and will inform you how much friendly your website is.
Earlier, Google's page rank was a factor for any webpage on the internet. However, it was a flawed system as it gave rank even without content, just on the basis of backlinks. Moreover, the domain authority score is very well-organized and the most trusted way to measure the rank or authority of any domain on the internet.