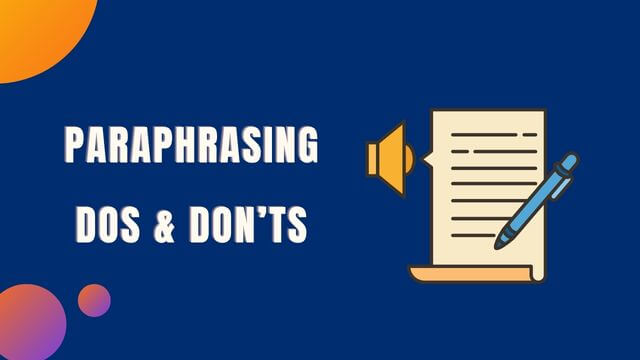 5 Paraphrasing Dos & Don'ts: How a Paraphrasing Tool help effectively?
Improve your paraphrasing skills with these 5 dos and don'ts! Discover how a paraphrasing tool can assist you in effectively rephrasing content. Enhance your writing and avoid plagiarism with this comprehensive guide.

Have you ever had that feeling when the deadline is approaching and you don't even have a minute to complete the task? If you've studied college or university then you would have been in a similar situation.
Deadlines and submissions are quite daunting for some people when they have not completed their tasks on time. There are many people who prefer doing work at the last minute, but these last-minute tasks always end up in something bad.
5 Paraphrasing Dos & Don'ts: How a Paraphrasing Tool help effectively?
When it comes to writing, many people are quite lazy about writing original pieces of content. There are still many students who copy work from the internet and submit it further. This can be harmful to them because imitating content can lead to serious issues and one can face some harsh consequences.
Writing duplicate content is not allowed by Google and institutions because this leads to plagiarism. Plagiarism is considered theft and it is not less than a crime.
People who plagiarize their content can be sued by other companies and can lose their identity.
To avoid plagiarism one can paraphrase their articles and essays to save themselves from duplication.
Who would like to have imitated content published on their website, therefore paraphrasing tools are available for people who need to reword sentences and make them unique and fresh.
There are a number of paraphrasing tools available on the internet but try to find the recommended and most used paraphrasing tool with positive reviews.
However, there are some rules for paraphrasing that people need to understand while writing a document. In this article, we will discuss the 5 do's and don'ts of paraphrasing content so that you can submit an original piece of write-up.
Do understand when to quote
While writing sometimes we need to copy-paste the quotations and some information that cannot be rephrased, here you need to mention the source from where you have extracted information.
This will save you from plagiarism. This is the preferred way of citing sources when you cannot rewrite the quote on your own any further and is allowed in the literary world.
Do keep in mind the purpose of Paraphrasing
You are mistaken if you believe that paraphrasing is simply rewriting ideas from someone else's work in order to avoid having to think for yourself. As a writer, you need to express your ideas that you've read somewhere else in your own unique style, citing the paraphrased material as needed.
The goal of rewording your content is to bring together ideas from various sources in terms of communicating to your reader in a clear and concise manner.
Do learn the text that you are rephrasing
When paraphrasing, make sure you understand the text completely; otherwise, it would be risky relying too heavily on the original source text. The purpose of writing in your own words is to interpret the information you researched for your reader, explaining it as if you were speaking to a colleague or teacher. In other words, paraphrasing is a skill that illustrates one's comprehension of a text.
Do understand when to paraphrase
It is not important that you need to rewrite sentences all the time when you are writing. There would be some information that would require a source or citation and it could not be paraphrased. Here you can use citations or mention the source of the article which will not let your content be plagiarized.
Do add synonyms while paraphrasing
Sometimes people change the sentence by writing it in their own words and don't use synonyms. Using synonyms for particular words will enhance the quality of your writing and it will be more attractive for your readers.
Don't paraphrase too closely
When rewriting sentences you need to learn how to paraphrase. You must differentiate between the proper and improper paraphrasing techniques. The accurate way of paraphrasing includes changing the original source's words and syntactical structure.
Don't forget to add quotation marks when copying phrases
If you are copying some kind of information from somewhere then you need to add quotation marks to make it original. More than three consecutive words copied from another source are considered direct quotations, and they should always be enclosed in quotation marks or offset as a block quotation.
Even if you offer an in-text citation, patch writing (copying chunks of a statement without quotation marks) is considered plagiarism. Simply include any direct quotations (three words or more) in quotation marks to show that the phrase is not your own if you've reworded bits of a quote in your own manner.
Don't add too many synonyms in your article
You may think that adding synonyms is the best way to paraphrase your article but be careful when using a thesaurus. Add synonyms wisely that it does not change the meaning of the content and ruin the quality of your write-up.
Don't change the original meaning
As discussed earlier in this article, there are times when we change the meaning of the context while we are rewriting the article. Be careful when you paraphrase your sentences.
You can also use paraphrasing tools that provide the best results for rewording your articles without changing the actual meaning of the text.
Don't include your own opinion
While writing on topics that do not require personal opinions, be careful to write them without adding your own opinion.
Sometimes when we are writing in a flow we don't think about this and add our personal opinions that may ruin the beauty of the blog. Therefore be careful when paraphrasing your article.
Final Words
Paraphrasing on your own can be a tedious task for you, which is why there are so many tools and websites available on the internet that offer paraphrasing tools without any additional charges. Have a look at five of the most used paraphrasing tools that provide instant results and improve the quality of a write-up.