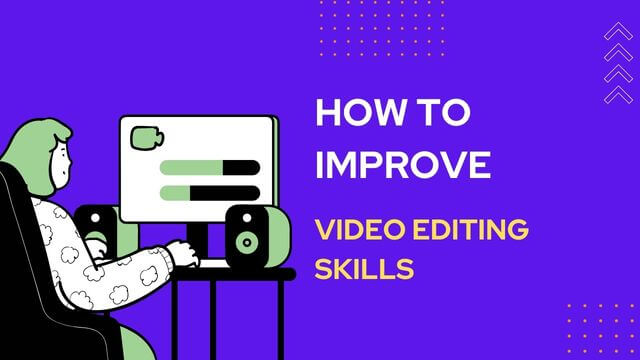 10 How to Improve Video Editing Skills: Pro Tips for Beginners In 2023
Looking to enhance your video editing skills? Our blog features 10 pro tips for beginners to improve their video editing techniques in 2023. Learn from industry experts and take your video editing to the next level. Read on for valuable insights and practical advice.
How to Improve Video Editing Skills: Pro Tips for Beginners In 2023
Video marketing has undeniably gained peak limelight in the last few decades. Each and every advertiser is keen on including a high-quality video advertising strategy into their business model to ensure that their marketing initiatives are truly worth it.
However, the entire process of video production and editing can be quite complex if you're sure of where to begin. From lighting, editing software, background, music, and much more, you need to look into various elements to boost your video editing skills. Here are 10 brilliant tips to boost your video editing skills optimally. 
1. Pick a High-Quality Video Editing Tool
One of the most prominent ways to master the skill of video editing is by choosing a cutting-edge online video editor. The right software can do all the wonders in doing the right job in editing your video content. An editing tool generally includes each and every element you require to keep up with the high editing standards in the marketplace.
From templates, animation effects, sound effects, stickers, customization features, and much more, you can make use of a variety of features to ensure that you create only the most phenomenal and stunning videos. 
2. Watch Different Video Editing Tutorials 
A great way to get some deeper insights into how you can really improve your editing skills is to watch popular video editing tutorials. Watching some well-known video editing snippets is an excellent way to gain adequate expertise and skills in creating better, more well-planned videos.
You can watch a multitude of free videos on various platforms such as YouTube, Instagram, and Facebook to understand what elements of editing you can work more efficiently on. 
3. Create a Narrative 
One of the best ways to edit your video is to create a narrative for your video content. A good video editor can help you compile different footage that you captured, thereby helping you attain a strong and engaging story. A story is an efficient way to get your audience to feel more connected to your brand.
Moreover, this is an intriguing way to keep your viewers significantly engaged when watching your videos. What you want to make sure of is to inspire some sort of emotions when your viewers watch your videos. 
4. Get Insights Into Keyboard Shortcuts 
Making maximal use of keyword shortcuts when performing various editing techniques can speed up your editing process. Moreover, this can drastically boost your chance at smooth and precise editing.
Good editing software can make you forget any compatibility issues. It is highly essential that your video editor can make complete use of keyboard shortcuts so that you can edit your video content much more efficiently. 
5. Color-Correct Your Video Content 
Color correction is an extremely essential aspect of your editing journey. Several online tools and editors can help you correct color deficiencies across your video so that your video is aesthetic and engaging enough to incite emotions among your viewers.
Make use of the premium-quality tool to determine and work on different color inconsistencies so that your video's final result is worthwhile. 
6. Create a Crisp Plan 
It goes without saying that a good plan or script for your video can make all the difference in the quality and appeal of your final video. Additionally, maintaining an organized workflow can help ensure that your editing process is as seamless as possible.
Furthermore, let's not forget that a script for your video can ensure that your editing process goes much more swiftly and that you don't miss out on even the most minute details that you wish to add to your video. Apart from this, make sure that you make use of a folder to save your files and projects so that you don't lose them accidentally. 
7. Incorporate Engaging Music 
Music is a very critical aspect of your video. It can make a very positive or negative impact on your audience, depending on the type of music you include in the video. Make sure the music isn't too loud because it will indeed distract your prospective audience from the core subject of the video.
Additionally, it is also important that your music syncs exceptionally with the video content. Make sure to keep it simple. Find a soothing soundtrack and add it to your video. 
8. Include Subtitles, Graphics, and Stock Footage 
Subtitles are quite necessary to adhere to the comfort of your international audience. Moreover, it can also make your video much more appealing. Subtitles work wonderfully in catering to a global audience and further ensuring that you have a high possibility of boosting your viewer base.
Furthermore, it is always an excellent idea to incorporate stock footage and graphics into your video to enhance its appearance. Remember, even the smallest elements can help you enhance the look and quality of your video.
9. Make Use of Smooth Transitions 
Believe it or not, sudden and awkward transitions are the quickest way to annoy your users and drive them away from your video. Smooth transitions can make a huge difference in ensuring that your videos look much more organized and appealing. Moreover, they can essentially space out your video to make them much more visually attractive, to say the least. 
10. Utilize a Stabilizer 
Lastly, do not underestimate the power of a good stabilizer. Often, you can't avoid but capture shaky footage no matter how hard you try to take smooth and high-quality snaps. However, there is always a way to fix this.
Stabilizers come in handy when you want to make your footage much more smooth. Moreover, they can help you attain firm snaps so that your video doesn't lose its quality. 
Bottom Line 
Video editing is something you should master, especially if you are a brand trying to connect more efficiently with your prospective audience. While video editors make the entire process of video editing quite effortless, it is also vital that you look into certain elements to make this process more valuable.
These were some of the most outstanding and remarkable editing tips that you can leverage when giving your videos a smooth finish. Do adequate research so that your efforts don't go in vain.