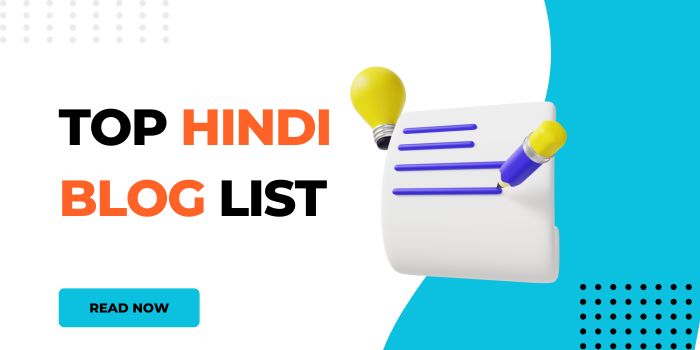 Top Indian Hindi Blog List | Best Hindi Blogging Sites
Hindi blogging sites, also known as the Hindi blog list, perform excellently. You will get several results if you search for the best Hindi blog site list on Google. We have included the best Hindi blogs from most search engine results (Google, Bing, Yandex, Yahoo, etc.) along with our indian blog directory data.
And we have added almost all Indian Hindi bloggers from different regions who write extensively on blogging, affiliate marketing, and website content for the people of India.
Most Hindi bloggers desire to add their websites to their popular Hindi blog list. Therefore, as mentioned above, we are creating a list of the top Hindi blogs here. Who knows? Maybe some of those who solely publish Hindi blogs and include Hindi content are not added to this list.
You can also add the name of your website to the list of the most popular Hindi blogs by providing us with your information via our comment box or directly by submitting your blog. However, it is necessary to meet the appropriate criteria.
Why is the Hindi blog included in the top list?
You may have noticed that most Hindi bloggers have included Hindi websites on their respective blogging websites because people want to explore them. Every Hindi blogger has a great interest in successful Hindi bloggers and their blogging lives; there is no doubt about it. They want to follow and learn from them.
Whether you're a Hindi blogger looking for inspiration or a reader interested in exploring the world of Hindi blogs, our list covers you. Our main purpose is to promote Hindi literature, support Hindi bloggers, and encourage them. I hope learning more about Hindi stuff, Hindi culture, and Hindi literature will be very helpful by going through this site.
Best Hindi Blog List 2023
When you search the internet, the result will show, but if it is written in pure Hindi, it will show some great Hindi bloggers who publish their articles in Hindi text. But most people need to be made aware of this. And most of them have no extra time for research...
Today, we will talk about those Indian Hindi bloggers who are popular or are making great efforts to become popular. We are sharing our knowledge according to what we know and what we get from the research...
No one can ignore the popularity of growing Hindi blogs. No matter what anyone says, Hindi blogs and Hindi blog posts are considered user-friendly and are liked more because it is the national language of India.

1. Technical Mitra
Nitish is a passionate content creator who is committed to helping people achieve success in their lives. He started his entrepreneurial journey as a video content creator and has since expanded his reach by sharing his knowledge and experience on strategic platforms to help boost brands and entrepreneurs.
| | |
| --- | --- |
| Blog URL | technicalmitra.com |
| Founder/Owner | Nitish Verma |
| Domain Authority | 67 |
| Topics Covered | Technology |
2. TIpsmafia
Hello, my name is Sarat. The meaning of our website tips mafia is to give information about all things, like the internet, computer, mobile, etc., to all of you. So that all of you can know more and more about all these through our blog. We have made appropriate categories for our articles with whatever information you all want on our blog.
| | |
| --- | --- |
| Blog URL | tipsmafia.org |
| Founder/Owner | Saurabh Goud |
| Domain Authority | 67 |
| Topics Covered | Technology |
3. Gadgetnorm
Our website gadgetnorm.com, Provide Informative data about different Categories Like Google Analytic, Google Search console (webmaster),Google Data Studio etc . The Main and focus part of our website is the information and Reporting methods to make Report for easy way.
| | |
| --- | --- |
| Blog URL | gadgetnorm.com |
| Founder/Owner | Vinod |
| Domain Authority | 64 |
| Topics Covered | Technology |
4. WTechni
घर बैठे-बैठे सीखिए ब्लॉग्गिंग, जानकारी लीजिए कम्प्युटर, इंटरनेट की और पाइए टेक्नोलॉजी, डिजिटल यंत्र और करियर से जुड़ी हर प्रकार की खबर अपने स्मार्टफोन में और हमारे साथ एक कदम अपने लक्ष्य की ओर बढ़ाइए.
| | |
| --- | --- |
| Blog URL | wtechni.com |
| Founder/Owner | Wasim Akram |
| Domain Authority | 61 |
| Topics Covered | Technology |
5. Bihar Feed
Bihar feed is dedicated to all those who always want to be updated with Bhojpuri News, Bihar Trending News, Upcoming Film, Festival, Tour and Travel, History and Cultures, New Bhojpuri songs and many more. it is also for general information purposes only.In this website I regularly use to write new Post on all those topics and i always want to keep the information up to date and correct.
| | |
| --- | --- |
| Blog URL | biharfeed.com |
| Founder/Owner | Amit Mishra |
| Domain Authority | 58 |
| Topics Covered | |
6. Thehindiguide
Founded in 2020 by Ragini Salampure, Thehindiguide has come a long way from its beginnings in Pune. When Ragini Salampure first started out, his passion for Spreading Knowledge drove them to Make Thehindiguide.com so that Thehindiguide can offer you Knowledge & Information.
| | |
| --- | --- |
| Blog URL | thehindiguide.com |
| Founder/Owner | Arun Sharma |
| Domain Authority | 57 |
| Topics Covered | Technology |

List of Best Hindi Blogs in India 2023