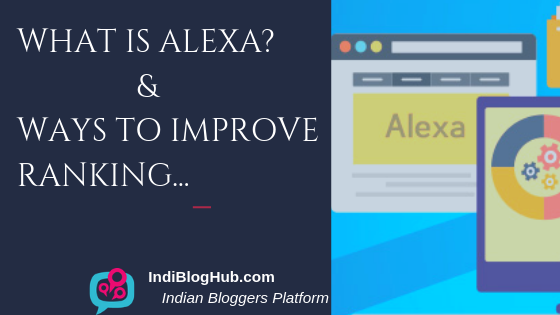 What is Alexa Rank and How is it Helpful in SEO In 2023
In this post, you will discover what Alexa Rank is and how it can be beneficial for your SEO efforts. Learn how this metric is calculated, why it matters, and how you can use it to improve your website's search engine ranking. Boost your online presence today with the power of Alexa Rank!

Since hundreds or maybe thousands of new websites are made each day, bloggers have started worrying about the traffic their blogs generate. Hence, almost every one of them has now started researching how to improve traffic on their website and blogs. Similarly, one of the most confounding topics today is Alexa ranking in SEO today.
Historically heaps of people tend not to trust it as an accurate indicator of what it is supposed to be a measure of i.e. "to compare how a website is doing relative to that of all other competitors on the web". Also, it doesn't take long to see how it all fits into the big picture.
For most bloggers and site owners, it is very important that how their website is doing. Having a look at the Alexa Ranking of your competitors' site may give you a rough idea of how popular your website is relative to theirs, provided that the same kind of people visits both the sites. It hopefully minimizes some of the biases brought about by the significantly-less-than-perfect way in which Alexa gathers their data.
What is Alexa & Alexa Ranking?
Alexa is a globally known network that was founded in 1996. It is a subsidiary company of amazon.com (acquired by Amazon in 1999). Alexa is a venerable network of web analytics, to provide what was then essential, especially providing commercial web traffic data.
The business has changed from time to time. So, one of the pieces they are probably best known for is 'Alexa Ranking.' It is a metric that ranks website in order of popularity or 'how well a website is doing' with a focus on performance over the last 3 months.
How is Alexa Rank Calculated and is it accurate?
According to Alexa's official website, the rank is calculated by estimating the browsing behavior of people to the sites and the estimated number of page views on the site over the past 3 months.
The site with the highest amalgamation of unique visitors and unique pageviews is ranked #1.
How does Alexa Ranking work?
Alexa has a large traffic data panel with millions of people all over the world. It is a complex calculation that estimates the number of visitors to all the sites on the Internet. Along with that, it involves correcting for biases as well as identifying and gets rid of fake or spam traffic. Moreover, the data scientists of Alexa Ranking put in their best efforts to provide data free of noise. So, you can make appropriate decisions for your website.
Alexa diversified its data pool in 2008 and now it is a many-headed beast. However, the prime logic is still quite intuitive i.e. if you get more traffic, eventually, your rank will improve. It basically works as a website rank checker and provides the website's info.
How do I discover my site's Alexa rank?
To discover your site's Alexa rank, you can follow these simple steps:
Go to the Alexa website at https://www.alexa.com/.
Type your website's address in the search box located at the top of the page.
Click on the "Find" button to get to your site's overview page.
Your site's global Alexa rank will be displayed on this page, along with other important metrics such as daily page views and average time spent on your site.
It's important to note that Alexa ranks websites based on their traffic levels over the past three months, with the most popular sites having a lower numerical ranking.
In addition to finding your site's Alexa rank, you can also use the Alexa website to conduct keyword research, analyze competitor websites, and track your own site's performance over time. With these tools, you can gain valuable insights into your site's online presence and take steps to improve your visibility and reach.
Does Alexa Rank impact my SEO?
Search engines like Google use a complex set of algorithms to determine the ranking of websites in search results. These algorithms take into account a wide range of factors such as content relevance, user engagement metrics, backlinks, domain authority, and more. While there is no evidence to suggest that Alexa Rank is a direct ranking factor in Google's algorithm, it may indirectly affect your SEO efforts by providing insight into the popularity and traffic of your site.
For example, if your site has a high Alexa Rank, it could indicate that your site is receiving a significant amount of traffic and engagement, which could boost your overall visibility and brand awareness. In addition, a high Alexa Rank could also attract the attention of other websites that may be interested in linking to your content, which can help to improve your site's domain authority and increase your search engine rankings over time.
However, it is important to note that Alexa Rank is just one of many metrics that you should consider when optimizing your site for search engines. While a high Alexa Rank may be a positive indicator of your site's popularity and engagement, it does not necessarily translate into higher search engine rankings or improved SEO performance.
Instead, you should focus on creating high-quality, relevant content that is optimized for your target audience and includes relevant keywords and phrases. You should also work to build high-quality backlinks from authoritative websites within your industry, as these can have a significant impact on your domain authority and search engine rankings over time.
How can I use Alexa Rank in my marketing?
As a marketer, there are several ways you can use Alexa Rank to improve your marketing efforts and brand awareness.
Competitive Analysis: One way to use Alexa Rank in your marketing is to conduct competitive analysis. By comparing Alexa Ranks of your site and your competitors' sites, you can identify areas where you may be falling behind or where you may have an advantage. This can help you to develop a more effective marketing strategy and position your brand more effectively within your industry.
Identifying Potential Partnerships: Another way to use Alexa Rank in your marketing is to identify potential partnerships. Sites with similar or complementary offerings to your own may be interested in partnering with you to reach a wider audience. By identifying sites with similar or higher Alexa Ranks, you can quickly and easily identify potential partners who may be interested in working with you.
Improving Your Site's SEO: While Alexa Rank does not have a direct impact on your search engine rankings, it can indirectly affect your SEO efforts by providing insight into the popularity and engagement of your site. By tracking your Alexa Rank over time, you can identify trends and patterns in your site's traffic and engagement, which can help you to optimize your content and keywords for better search engine rankings.
Developing Marketing Campaigns: Alexa Rank can also be used to develop effective marketing campaigns. For example, if you see a significant increase in your site's Alexa Rank after launching a new marketing campaign, you can use this as evidence to show the success of your campaign to stakeholders and potential partners.
Brand Awareness: Finally, Alexa Rank can be used to improve your brand awareness. A high Alexa Rank can indicate that your site is receiving a significant amount of traffic and engagement, which can help to boost your overall visibility and brand awareness. You can use your Alexa Rank to show potential customers and partners that your site is popular and well-regarded within your industry.
6 Major Factors Affecting Alexa Ranking:
In general, some measures you can follow that may augment your traffic and ultimately increase your Alexa Ranking, albeit slowly. Alexa ranking and Alexa site info are important, but it is considered as secondary factor rather than primary one. 
You don't need to struggle to raise it, as it will naturally elevate. Following are some ways to raise the Alexa rank of your website:
1) Post and Share Authentic and Engaging Content Regularly
The health of your content strategy is a major factor that determines long-term search engine traffic. The quality of the content your site provides should be the prime focus for loyal readers. If your site provides valuable and informative content, readers engage with future posts and share it among their network as well.
This helps in link building. Also, to attract new readers and turn them into your loyal audience you need to provide unique content.
2) Focus on Returning/Converted Viewers and Dwell time
You don't have to constantly work on getting new traffic to gain ground on your Alexa score. You can accumulate results by getting visitors to come back to your site again and again.
To maintain a loyal audience, you should work on email marketing, social engagement and other methods to excite people and invite them to your posts.
3) Get the User to Install the Alexa Toolbar
If you have a strong relationship with a dedicated community of users, you can go straight for this option. Literally, ask your loyal and existing followers and readers to install the Alexa browser widget.
This will help you attain a noticeable and nearly-immediate boost by making your existing traffic count more strongly.
4) Display Alexa Widget
When visitors click on the Alexa widget display on your site, the traffic algorithm receives a positive sign. Hence, it helps in increasing your Alexa rank.
5) Collect Links
This strategy helps search engines to define your niche and increase the quality of your site. In other words, it makes your website trustworthy. Inbound Links (links from the sites that are performing well) provides credibility to your own site. Moreover, anyone can follow this strategy by producing original and engaging content.
On the other hand, internal links are also a part of tactics as they guide your visitors to other pages or posts on your website. Internal Links help to keep readers busy on your website. But using it excessively may reduce the interest of readers. Thus, use internal linking appropriately.
 Altogether, internal and inbound links help search engines to identify the content of your site.
6) SEO - Optimize Your Blog and Blog post
Search Engine Optimization (SEO) is a very important factor that deserves your attention to improve your rank in website rank checker. SEO is not about just improving the visibility of your website but it's also about optimizing its interface to make your website better for its users.
Along with many resources, Alexa offers you a Marketing Stack which includes keyword research, competitive analysis, and web analytics tool. These tools help your site to get a better ranking in search engines. Eventually, it increases the number of visitors, thereby increasing your Alexa rank.
Conclusion:
Alexa may not make or break your site, but it's a great thing to have on your side to raise your online visibility to the next level. Just like the North Star, it may not provide sophisticated detail, but it does let you know the right way to go. Sometimes, that's what you need the most.
Embrace content marketing, social media marketing, and inbound marketing practices. Refine your approaches with your own internal analytics and keep an eye on Alexa to track general trends. It may take a quarter, two, or even three but you can capture the consistent Alexa rank you want.