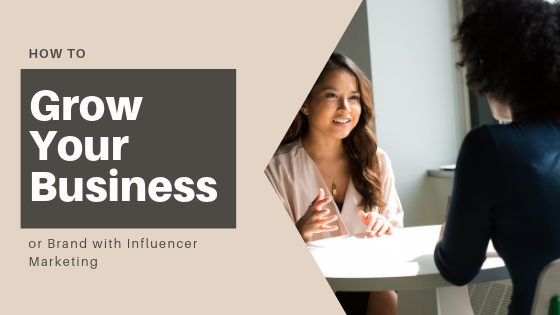 How to Use Influencer Marketing to Grow Your Business In 2023
Looking to grow your business in 2023? Influencer marketing might just be the key. In this blog post, we'll show you how to effectively use influencer marketing to boost your brand's visibility, reach new audiences, and drive sales. Learn the latest trends, best practices, and insider tips to create a successful influencer marketing campaign that can take your business to the next level.

Gone are those days when brands and businesses were dependent only on actors and celebrities to gain more exposure to their products or services. This is a digital age and the way of promoting a business or brand has changed a lot in the past few years. If you are a social media user then you must be aware of influencer marketing. In fact, some of your friends may be into influencer marketing. A lot of teenagers are getting attracted to this exponentially expanding field.
If you are having finance related doubts, you can checkout: MoneyBrighter
Digital Marketing of your brand's products and services help you to reach a larger audience. The best thing about Influencer marketing is that you can reach a large audience base and a targeted one. Today in this article, we will discuss various ways by which you can promote your brand or business by utilizing Influencer Marketing. 
Grow Your Brand with Influencer Marketing
1. Instagram Marketing
Instagram is one of the best platforms for brand marketing. Instagram marketing has excellent scope as people prefer to use Instagram instead of Facebook nowadays. There were around 72261000 Instagram users in India in November 2018. And in the past 1 year, the user base of Instagram has increased rapidly. Teenagers are actively using Instagram. If you are an influencer with a good number of followers on Instagram brands will automatically reach you for paid collaborations. 
If you are a brand then you can promote your products or services through Instagram marketing. You can collaborate with the Top Instagram influencers and can take their help to get more eyes to your brand. Instagram influencers use various ways to promote your brand products or services. You can send then your product and they can make a video and give a review of your product. They can also share your product reviews in the form of image posts. If they have a good number of followers then the chances of sales will increase. 
Let us take an example, if you have are an e-commerce brand which deals in Women clothing, and want to increase your monthly sales, then you can try reaching the top Fashion influencers on Instagram. They will review your product on their Instagram account. Most of the brands are using Instagram marketing for their brands and they admit that they have got wonderful results from it. 
2. Facebook Marketing
Facebook has a large number of users worldwide and India alone has a large user base of Facebook. And the number is increasing. Just imagine how much potential this single social media platform has. You can use Facebook marketing to increase your overall business. Now, there are various ways through which you can get more exposure to your business.

You can reach out the top Facebook influencers. Look for the top pages which are related to your business and try to contact their admins. You can ask them to do a paid post on their facebook page. You can make use of beautiful graphics or a short video to gain more engagement. They will charge a small amount for the same but the paid promotion may do wonders for your business. 
You can hire Facebook influencers for your promotion and they will publish regular posts on their pages which have millions of likes and readers. You can pay a monthly amount to them for sharing your posts or business videos on their Facebook pages. 
You can run Facebook Ad campaigns or can hire an influencer or marketer for the same. They may run a sponsored Ad on Facebook. Facebook Ads need a lot of expertise because you need to target the right audience base so that you can the maximum profit from those ads. Facebook ads have already helped a lot of brands. 
3. Sponsored Posts via Blogger Outreach
This is one of the best ways for online advertising and believe me this is much cheaper than the traditional ways of advertising your business or brand. You can make use of the power of digital marketing and can boost your overall profit. Bloggers Outreach is one of the ways. Bloggers try to keep their blog updated. You can reach out the top bloggers from your niche and can do a paid sponsored post on their blog. There are a lot of bloggers who have very high traffic on their blog. With Sponsored posts, you can make use of their traffic to showcase your product or services. 
If your product is related to fashion and beauty then you can reach out the top bloggers and influencers on Fashion and beauty. Now you must be curious, how to find the top bloggers and influencers in each niche. Indibloghub has made this thing quite easy. On Indibloghub platform, you can find the best influencers and bloggers for each niche. If you are a brand who deals in data recovery software then you can reach out the top tech bloggers of India. The best thing about this type of marketing is that it is a permanent mode of advertising and much cheaper than other modes. The chances of conversions are higher if you run an online business or have enabled the online methods to buy your products or services. 
You can also promote your product or services through banner ads on top blogs and websites. You can reach out the top bloggers of niche which is related to your business. You can decide the size of the banner. A lot of bloggers allow banner advertisement on their blogs. You can check this by visiting the contact us pages of the blogs. There you can find all the information related to paid advertising. Most of the bloggers also share their blog traffic and other metrics.
4. Run Affiliates for Your Brand
You can run affiliates for your brand just like top tech giants like Amazon and Flipkart do. Amazon runs its own affiliate network with the name Amazon associates. Bloggers, Social media influencers and other freelancers promote their products on their blogs and other social media platforms. You can also take the help of a developer to get your affiliate banner and links designed in case you are nontechnical.
You can try reaching out bloggers and social media influencers who will promote your product or services. For promoting your brand affiliates, they have to be paid a commission per sale. You can design a commission chart and can publish that on your Affiliate website so that influencers get an idea about the commission rate of each product. They may promote your Affiliates in the form of banners, text ads etc, Banner ads can do wonders because they are visible on all the pages of their blog or website and more people will see that type of ad. You can also ask them to write a review of your product or services. A detailed and genuine review increases the chance of conversion as people have become smarter nowadays. They love to read reviews of the products or services they wish to buy.
Wrapping up
So, these were the best methods through which you can grow your business or brands through Influencer Marketing. You can browse the directory on Indibloghub to reach the best influencers in the industry. If you have any queries, you can ask through the comments section below. Stay tuned with IndiBlogHub for more such content.