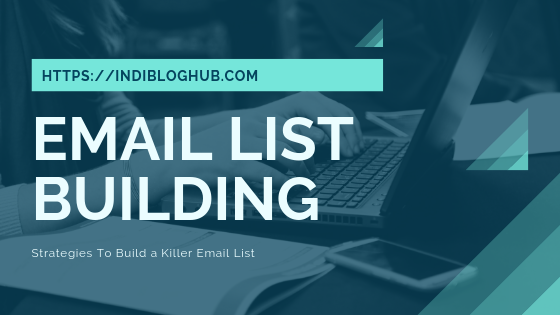 How to Build an Email List Quickly: My Winning Strategies in 2023
Looking to build an email list quickly in 2023? In this post, we'll share winning strategies and essential tips to help you grow your email list, boost engagement, and drive conversions. Discover proven tactics, powerful tools, and actionable insights to supercharge your email marketing efforts and achieve your business goals.

Email Marketing can be the best method in Blogging and many big and small businesses, e-commerce. Email Marketing gives you the option to interact with your customers and readers directly in case of businesses and Blogging respectively. Email Marketing increases your conversion rate and chances. By building your email list you can make a new visitor a regular reader of your blog. In this post, we are going to tell you how to do Email marketing of your business or content. You will learn the Email Marketing benefits. 
How to Build an Email List from Scratch in 2023
Bloggers are very much interested in Building an Email List. The Expert bloggers also advise the newbie bloggers for making an Email List. But many of us think that making an Email List is a very complex task and they have no idea as of how to make and Email List on your blog.
Here are
10 tips to help you build an email list from scratch:
Offer a Lead Magnet: Create a valuable piece of content such as an eBook, checklist, or guide that your target audience would find helpful and offer it in exchange for their email address.
Create a Sign-Up Form: Place a sign-up form on your website or blog, making it easy for visitors to subscribe to your email list.
Use Social Media: Promote your lead magnet and sign-up form on your social media channels to increase visibility and attract potential subscribers.
Run Contests and Giveaways: Encourage people to sign up for your email list by offering them the chance to win a prize.
Attend Events: Collect email addresses at industry events, trade shows, or conferences by offering something of value to attendees.
Leverage Referral Marketing: Encourage your existing subscribers to share your content and sign-up form with their friends and colleagues.
Use Pop-Ups: Use pop-ups to grab the attention of your website visitors and encourage them to sign up for your email list.
Guest Blogging: Write guest posts for other blogs in your industry and include a call-to-action to encourage readers to sign up for your email list.
Partner with Other Businesses: Collaborate with complementary businesses and offer a joint promotion to encourage people to sign up for your email list.
Use Paid Advertising: Use targeted paid advertising on social media or search engines to promote your lead magnet and sign-up form to your target audience.
By implementing these tips, you can start building an email list from scratch and grow your subscriber base over time. Remember to provide value, be consistent, and stay focused on your target audience to see the best results.
Also in this post, we will discuss, What is an Email List, how to make an Email List for your blog, and the advantages of building an Email list on your blog. We will tell you some plugins that you can use to set up an Email Subscription for your readers.
What is an Email List?
An Email List is a collection of email addresses of your readers on the blog. You need to add an Email Subscription box on your blog so that readers who love your blog and wish not to miss any of your upcoming content, can easily subscribe to it by clicking on the Signup option. You can send regular newsletters to your readers. The time period of newsletters can be daily, weekly and monthly. You can add the new articles link in it, the new updates of your blog or any new product information if your website deals in buying and selling of products.
You can send regular news and updates. Like if you have a tech blog you can send them the latest technology news, the new mobiles launched the laptops and the sale offers of selected gadgets. If you own a beauty and fashion blog, you can just mail them useful beauty tips and things they can try at b home to become more charming and attractive. So, the Email list is very important to convert your visitors into your Readers. We will also give you Email Marketing Tips and how to do Email Marketing for your blog. 
Don't Miss: Guest Blogging Sites List to Submit Guest Posts 
Advantages of Increasing Subscribers To Your Blogs
1. More Outreach:
With Email marketing strategies you can also cover those people who use social media very very less and also those who do not use social medias.
2. Targeting:
You can select and choose your subscribers and send them newsletters and emails according to their interests and their location etc.
3. Ownership:
In Facebook and Twitter you have the chance of account suspension if you do a repeated promotion of your content. But in the case of Email marketing things are different as you are the owner and you yourself need to do all the things.
4. Direct Interaction:
With social medias like Pinterest, Facebook, Twitter and other medias you can not interact with your readers and have no surity whether people will read or not.  But in Email marketing, there are more chances that the person will surely read your mail.
5. Top Bloggers use Email Subscriptions.
Top websites like backlinko.com and Harsh Agarwal of shoutmeloud.com also uses the third part Email Service provider. He always focuses on the importance of Email list building in his videos. When you visit backlino.com then first thing that opens up is the subscribe popup only. When theses top people are using Email list building then you can understand how important this thing is.
6. More Revenue:
More Email subscriber to your blog means more readers of your blog, which means more blog traffic and more traffic means more clicks and conversion which leads to generating more revenue.
How To Make an  Email List for your Blog
In this section, we will explain various steps on how to build an effective Email List for your blog. This will help you a lot to convert your blog visitors into regular readers of your blog :)
1. You make your Email Subscription manually: 
But though it can be a tedious task. I mean it's not possible to manually add the Email addresses of each and every person. the outreach is very low in this method because you can not cover your readers, can add only email addresses of your friends or people you know. But, still, it works. You manually ask the people who like your blog, if they want to stay in touch with your blog.
2. Use A Third Party Email Service Provider:
The best and fruitful method is to hire a third part Email service provider for your blog. Though these are premium and paid email services, but few of them offer free Email Service to a limited number f  subscriber of your blog. You need to sign up on the Email service provider and they will do all the work for you. You just need to signup and select your campaigns and other details and sit back and relax.
We will tell you some very popular and commonly used Email Service Providers. Have a look.

1. MailChimp:
MailChimp is the best and most preferred Email service provider used by the Professional Blogger and Business owners.
You can easily find the MailChimp Plugin in your WordPress. Just search for Mailchimp and choose the email Subscription plugin of Mail chimp. Click on Install and then activate. Then go to its setting area and it will take you to the MailChimp website page and you will need to sign up and enter your details to choose their service. They will then show you their plans. the good news is that if you have less than 2000 subscribers you can use the free version of the MailChimp. You need to select what campaign you want to run. Choose the best according to your blog and readers.
2. AWeber:  
Aweber is another very popular email service provider among bloggers and also the top internet marketers. It allows you send emails, manages subscribers and readers. You can keep track your readers and subscribers. you can also send a sequence of automatically delivered emails (Autoresponder System), automatically create emails from your newest blog posts, and target subscribers based on their action, location, etc with a single click. AutoResponder can be very useful. There are many formatting options in the Aweber.
You can design your Email Subscription Widget, add your own text, headlines you want, Sign up button or any other button. You can add different colors for your buttons and the heading you make, Titles etc. For the first month, they charge you 1$ only.There are some other Email Service Providers. But you need to select and compare the plans and what suits your budget. Constant contact can also be used. Instead of choosing a free service I will ask you to use the paid ones. All the top companies like Apple and Facebook also use the third party service providers.
So, this was all about the Importance and benefits of Email list building. We told you how to build an email list for your blog. This way you can do Email Marketing for your blog/business and get more audience to it. If you have any queries you can ask us in the comments section below.