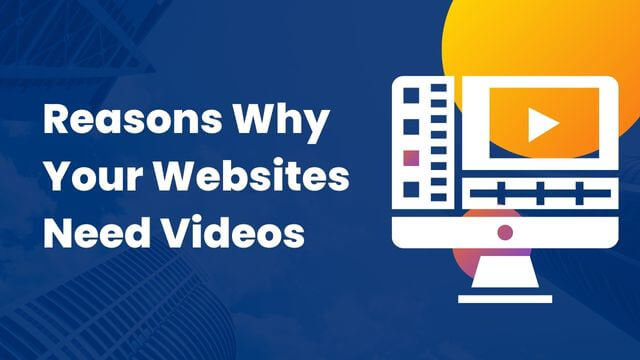 Top 4+1 Reasons Why Your Websites Need Videos In 2023
Learn about the importance of incorporating videos on your website to enhance user engagement, improve SEO, and boost conversions. Discover the top reasons why your website needs videos and how they can help your business grow.

Written content is supremely important, but videos, images, GIFs, and other visual content are slowly becoming more popular with audiences. The saying "a picture is worth a thousand words" makes a whole lot of sense when viewed through this lens. SEO and digital marketing experts have slowly begun to leverage the power of high-quality videos. By the end of 2021, video content will account for 82% of all web traffic.
Ever since the advent of social media platforms like Facebook and Instagram, video marketing has evolved by leaps and bounds. In fact, Facebook gets over 8 billion video views daily - which is a truly staggering number. 80% of digital marketers active on social media sites have said that using videos has increased their sales numbers considerably.
The Importance of Web Traffic
One can say that website traffic is the lifeblood of any online business. Apart from paid traffic generated through ads, websites also need to come up with a healthy stream of organic traffic. The most reliable way to do so is to invest in a holistic and robust SEO and digital marketing strategy. Higher organic traffic will lead to increased sales and higher income streams.
Top 4+1 Reasons Why Your Websites Need Videos In 2023
Here are 5 reasons why videos help in increasing web traffic and conversion rates.
Reason #01: Videos Help in Search Engine Optimization
One of the primary objectives of businesses online is to improve their search engine rankings. Google is the search engine of choice as it has a staggering market share of 92.47%.
Google's ranking algorithm makes use of a factor called "dwell time", which is the average amount of time a user spends on the website. A higher dwell time has been correlated with higher Google rankings.
Videos are the most efficient way of increasing dwell time in an organic manner. A short and compelling video made with an online video editor will capture the attention of your audience.
In short, a website with a video will have better engagement, higher click-through rates, better dwell time, and improved conversions. A video that is 90 seconds or less has a 50% retention rate.
Reason #02: Videos are the Best Way to Inform and Entertain
Video ads on social media are the most efficient and common way for customers to find out about a new product. Your brand can leverage website videos to inform customers about the products and services that you are offering.
In fact, product explanations, product demos, and how-to videos are produced by businesses the most. Businesses can also inform potential customers about their products by creating testimonial videos and tutorials.
Research has shown that an educational or entertaining video about the brand/product on the website's landing page can boost conversions by a whopping 80%.
The organic traffic can be increased by a factor of 157% if videos are implemented by the business through their website and social media channels.
Reason #03: Videos Let Brands Find Their Unique Identity
It's important for brands today to find and craft a unique and appealing identity. There is enormous competition out there, and a unique identity can help brands carve out a niche for themselves in their industry.
You have to humanize your brand so that you connect with your audiences and potential customers. The best way to do so is to reach out to members of the audience in an intimate fashion.
Using videos to showcase your brand's personality and identity to the world can increase transparency and trust in the company. This will automatically lead to a rise in total conversions.
Reason #04: Use How-To Videos to Attract Customers with Intent
Numerous studies have shown that how-to videos are a fantastic way to attract those customers who have the intent to make a purchase.
In fact, how-to videos are the most popular type of videos on YouTube and on the internet in general - far outweighing music videos, gaming videos, and more.
Brands like Home Depot routinely publish how-to videos on their official website and social media pages, directly attracting customers who wish to make a purchase.
This kind of content is generally instructive and not promotional, and it genuinely tries to help customers learn how to solve specific problems.
Remember to optimize the videos with proper SEO keywords and meta descriptions so that the videos are discoverable on Google and YouTube.
Reason #05: Leverage the Power of Video Testimonials
Customers don't automatically begin to trust the product qualities of brands that they are unfamiliar with. They turn to recommendations and testimonials - and it is your job to provide them with it.
Providing your potential customers with video testimonials from satisfied customers is a great social proof - and it can help improve the level of trust between your brand and potential customers.
According to a study, 79% of people prefer to watch a video testimonial or a video product review to find more about the quality of a product they want to buy.
In fact, 37% of people believe that video testimonials from customers are better endorsements than video ads on Facebook.
How to Use Video Content to Boost Web Traffic & Conversions
1. Create Short Promotional Videos
A great way to introduce customers to new products and services is to create a short and appealing promotional video. Making a video with a video editor is very easy - and you can create an impressive video in a jiffy. 54% of customers want brands to come up with exclusive promotional and educational video content.
2. Use Screencasts to Improve Customer Service Experiences
Brands have also started to provide screencasts, which can be looked at as "video FAQs". Make a video that teaches customers to solve some of the common problems they may face with your product/service. This streamlines the customer service experience and reduces the load that the department has to deal with.
3. Invest in Good Video Ads
Video ads have a CTR that is 3 times higher than normal ads. Video ad campaigns have an average viewing rate of 50% - which is significantly higher than normal ad campaigns. Upload the videos to social media platforms and embed the links on your platform. This will lead to a sharp increase in traffic.
4. Remember to Do Proper Keyword Research
Proper SEO is the key to higher traffic and better conversion stats. You need to do proper keyword research if you want your videos to be discoverable. Make use of high-quality SEO tools to isolate keywords that are specific to your niche. There are various online tools that you can use for this.
Summing Up
This has been a complete guide to help you understand why videos are so important today, especially if you want to increase web traffic and conversion rates. Videos invoke an emotional response in your audience. Researchers have discovered that music and video effects can nudge the users and invoke a specific emotion in them. Ad campaigns with emotional content perform better than ad campaigns without any emotional content.
Over the next few years, video consumption will slowly increase and reach uncharted levels. As a business owner, you need to leverage this fact and optimize your website and social media profiles with nice videos. This will help you to reach out and connect with a large audience while receiving excellent ROI for all your digital marketing campaigns and efforts.