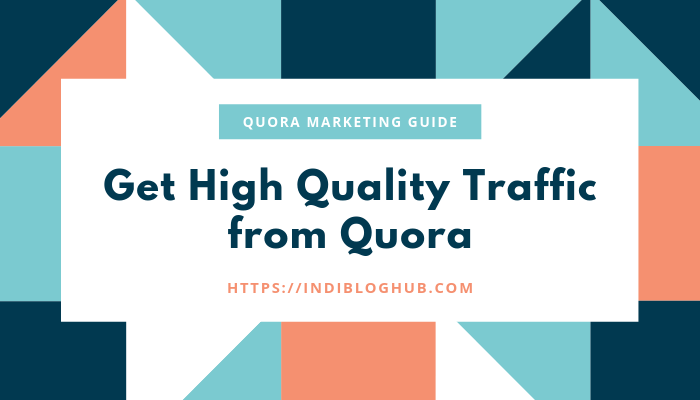 How to Get Traffic From Quora : Quora Marketing That Works (2023)
This post is about how to effectively leverage Quora marketing to drive traffic to your website. Here you will learn powerful strategies and tactics that will help you attract and engage your target audience on this popular Q&A platform. Ok lets start

How To get Traffic from Quora : Quora marketing
Traffic is the backbone of any blog. Without traffic a blog is useless. There are various ways by which you can get traffic to your blog. Quora is one of the best ways to bring high-quality traffic to your blog. Let's have a brief intro of this superb platform. Quora is basically a Q nA platform that has gained a lot of popularity in the past few years. It has gained a lot of authority among the readers, publishers and all the subject experts.
If you use the correct strategy, you can direct a large amount of high-quality traffic to your blog. But for that, you need to know the rules and how to's of Quora. Let us discuss what are the best ways to bring high-quality traffic to your blog form Quora:
1. Find the Relevant Questions
Quora is basically a Questions and Answers platform. It is like Yahoo's Q & A but much better from it. Like you used to ask questions on Yahoo QnA, same is the theme of Quora. Quora home page has a search button. Type the questions which are related to your blog topics. When you type the topic of your blog, various questions will come up. Then look for the most relevant questions in that list. Open that question and see how many answers have already been given for those questions. It would be good if you get an idea as what other subject experts have written. You have to give more value to your readers by your content.
2. For Quora too, Content is the King
It is rightly said that Content is King and this is true in case of Quora too. There must be various answers to a particular question. You have to give more information and value from what others have written. You should have a deeper knowledge of that subject. It would be good if you do a research on that topic. You can use Wikipedia or other websites to gain more knowledge about that topic. After that, you can frame a good answer with all the necessary information. Try to add examples, facts about that topic. If you think that the answer needs stats, then don't hesitate to add it.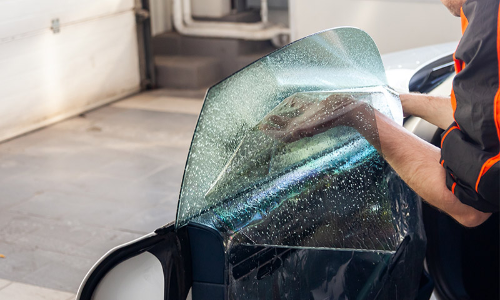 To use this Infographic, please give proper credit to the article link
3. Add High-Quality Images to Your Answer
Images increase user engagement and will hold your reader for more time. Using low-quality or blurred images can distract your readers and will have a negative impact on your readers. So, we would suggest you to use high-quality images in your answers. You can easily find the relevant images on Google and other sites which offer free images for blogs and other platforms. If you are good at designing and graphics then adding infographics will bring more value for your readers. Infographic will increase the chance of readers liking your answer more than others. They may upvote it and share it with other readers. The more upvotes you get, the more will be the authority of your answers.
Also Read:  How To Write Perfect SEO Optimized Articles That Will Rank On Page 1

4. Link Your Blog or Website Wisely
The main aim behind adding an answer on Quora is to gain traffic to your blog, Right? So, you can add links to your blog post and home page. BUT WISELY!  Because Quora is very strict when it comes to rules and guidelines. Quora hates Spamming and will not bear it at all. Quora takes no time in banning you from writing answers, temporarily and sometimes permanent too if you spam repeatedly. To add a link back your blog, first, you need to ensure that your answer is informative and provides all that a reader needs. Make sure you add a link of your blog post only if it is quite relevant to the question and you think it will give more information to your readers. Unnecessary adding of links will bring no good to you. Add only 1-2 links of your blog and that too in a smart way. Don't add the links in the first para itself. Try to add them to a place where they are appropriate. You can add them using an anchor text.
5. Never Add Affiliate Links
You may be smart but Quora is smarter than you. Quora hates Affiliate links. If you think that you get more sales by adding your affiliate links on Quora then you are wrong. You should never add any kind of affiliate links in your answers. Though you can recommend something to your readers but adding an affiliate link will not work. 
Also Check:  How to Make Money as blogger from your blog in 2019

6. Don't deviate from the Theme of the Question
You can write a detailed and informative answer to the question but make sure that you do not deviate from the main theme of the question. You do not have to add any information that is irrelevant or does not have any concern with the theme of the question. Deviating from the topic of the question can distract your readers and will have a negative impact on your overall Quora profile. Try to add points to your answer which makes it easy for the readers to read and understand. 
7. Add maximum credentials to Your Quora Profile
Quora is basically a QnA platform and people come here to find correct answers to their questions. Adding more and more credentials to your answer will bring the overall authority of your answer. Suppose you are a teacher and someone has asked a question, "What are the best career options after 12th?" then adding your teaching professional credentials and information will make your answer more authoritative. If you are a software engineer and has great subject knowledge then you can add all your credentials and qualifications in Quora profile. This will redirect more readers to your answer and your answer may get more attention than others. 
8. Quora Link Sharing Option
Quora had introduced the Quora link sharing button which will help you to share your blog post link directly to Quora. You can add the link of a blog post for which you need more traffic, the meta and title will be added to the post and the post will be live on Quora. 
9. Follow More topics of Your Interest
You should keep following more and more topics of your interest. There are a lot of topics available on Quora which may be of your interest. Follow those topics and answer the questions under that topic. You can also follow other Quora profiles which have high authority. 
10. Answering More Questions Means More Traffic
Make a habit of answering questions on Quora. This is something like reading your emails. Just like you read your emails you can make a habit of answering a few questions every day or maybe thrice in a week. Provide detailed information with facts and figures if necessary. You can add graphics and images to your answer if necessary. 
11. Creating Your Own Space on Quora
Creating your own space on Quora can also help you to gain more traffic to your answers and more engagement. You can convert that engagement and QuoraQnA traffic to your blog traffic. 
QuoraSpaces can be managed by a single admin, multiple contributors can be added in a single space. Contributors will help you in content. Quora will also suggest you content for your space.
You can invite contributors for your space so that it stays active and more content is added. The more content you add more will be the engagement in the group. 
A lot of spaces have grown this way and have managed to gain very good number of views on their content. So, what are you waiting for. Create  a space for a subject in which you have an expertise. 
So, these were some of the best and tested methods by which you can direct a large amount of high-quality traffic to your blog. The best thing about Quora traffic is that it is targeted traffic and will be of more value to your blog than traffic from other platforms. The traffic will be long-lasting as the answers on Quora will always be there and keep bringing regular traffic. Just follow these steps and if you feel you have any query you can ask us in the comments section below.