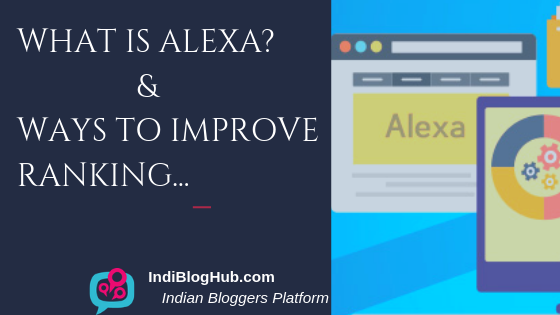 What is Alexa Ranking? Importance & How to improve?
Since hundreds or maybe thousands of new websites are made each day, bloggers have started worrying about the traffic their blogs generate. Hence, almost every one of them has now started researching on how to improve traffic on their website and blogs. Similarly, one of the most confounds topics today is Alexa ranking in SEO today.
Historically heaps of people tend not to trust it as an accurate indicator of what it is supposed to be a measure of i.e. "to compare how a website is doing relative to that of all other competitors on the web". Also, it doesn't take long to see how it all fits into the big picture.
For most of the bloggers and site owners, it is very important that how their website is doing. Having a look at the Alexa Ranking of your competitors' site may give you a rough idea of how popular your website is relative to theirs, provided that the same kind of people visits both the sites. It hopefully minimizes some of the biases brought about by the significantly-less-than-perfect way in which Alexa gathers their data.
What is Alexa & Alexa Ranking?
Alexa is a globally known network that was founded in 1996. It is a subsidiary company of amazon.com (acquired by Amazon in 1999). Alexa is a venerable network of web analytics, to provide what was then essential, especially providing commercial web traffic data.
The business has changed from time to time. So, one of the pieces they are probably best known for is 'Alexa Ranking.' It is a metric that ranks website in order of popularity or 'how well a website is doing' with a focus on performance over the last 3 months.
How does Alexa Ranking work?
According to Alexa's official website, the rank is calculated by estimating the browsing behavior of people to the sites and the estimated number of page views on the site over the past 3 months.
The site with the highest amalgamation of unique visitors and unique pageviews is ranked #1.
Alexa has a large traffic data panel with millions of people all over the world. It is a complex calculation that estimates the number of visitors to all the sites on the Internet. Along with that, it involves correcting for biases as well as identifying and gets rid of fake or spam traffic. Moreover, the data scientists of Alexa Ranking put in their best efforts to provide data free of noise. So, you can make appropriate decisions for your website.
Alexa diversified its data pool in 2008 and now it is a many-headed beast. However, the prime logic is still quite intuitive i.e. if you get more traffic, eventually, your rank will improve. It basically works as a website rank checker and provides the website's info.
6 Major Factors Affecting Alexa Ranking:
In general, some measures you can follow that may augment your traffic and ultimately increase your Alexa Ranking, albeit slowly. Alexa ranking and Alexa site info are important, but it is considered as a secondary factor rather than a primary one. 
You don't need to struggle to raise it, as it will naturally elevate. Following are some ways to raise the Alexa rank of your website:
1) Post and Share Authentic and Engaging Content Regularly
The health of your content strategy is a major factor that determines long-term search engine traffic. The quality of the content your site provides should be the prime focus for loyal readers. If your site provides valuable and informative content, readers engage with future posts and share it among their network as well.
This helps in link building. Also, to attract new readers and turn them into your loyal audience you need to provide unique content.
2) Focus on Returning/Converted Viewers and Dwell time
You don't have to constantly work on getting new traffic to gain ground on your Alexa score. You can accumulate results by getting visitors to come back to your site again and again.
To maintain a loyal audience, you should work on email marketing, social engagement and other methods to excite people and invite them to your posts.
3) Get the User to Install the Alexa Toolbar
If you have a strong relationship with a dedicated community of users, you can go straight for this option. Literally, ask your loyal and existing followers and readers to install the Alexa browser widget.
This will help you attain a noticeable and nearly-immediate boost by making your existing traffic count more strongly.
4) Display Alexa Widget
When visitors click on the Alexa widget display on your site, the traffic algorithm receives a positive sign. Hence, it helps in increasing your Alexa rank.
5) Collect Links
This strategy helps search engines to define your niche and increase the quality of your site. In other words, it makes your website trustworthy. Inbound Links (links from the sites that are performing well) provides credibility to your own site. Moreover, anyone can follow this strategy by producing original and engaging content.
On the other hand, internal links are also a part of tactics as they guide your visitors to other pages or posts on your website. Internal Links help to keep readers busy on your website. But using it excessively may reduce the interest of readers. Thus, use internal linking appropriately.
 Altogether, internal and inbound links help search engines to identify the content of your site.
6) SEO - Optimize Your Blog and Blog post
Search Engine Optimization (SEO) is a very important factor that deserves your attention to improve your rank in website rank checker. SEO is not about just improving the visibility of your website but it's also about optimizing its interface to make your website better for its users.
Along with many resources, Alexa offers you a Marketing Stack which includes keyword research, competitive analysis, and web analytics tool. These tools help your site to get a better ranking in search engines. Eventually, it increases the number of visitors, thereby increasing your Alexa rank.
Conclusion:
Alexa may not make or break your site, but it's a great thing to have on your side to raise your online visibility to the next level. Just as the North Star, it may not provide a sophisticated detail, but it does let you know the right way to go. Sometimes, that's what you need the most.
Embrace content marketing, social media marketing, and inbound marketing practices. Refine your approaches with your own internal analytics and keep an eye on Alexa to track general trends. It may take a quarter, two or even three but you can capture a consistent Alexa rank you want.