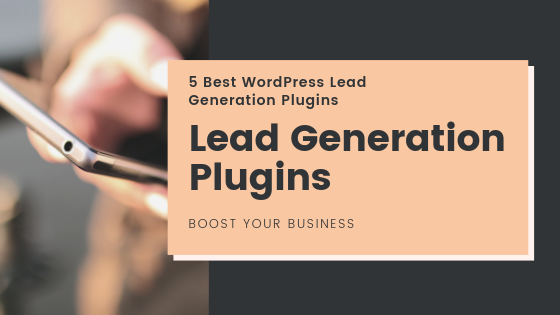 5 Best WordPress Lead Generation Plugins to Boost Your Business in 2023
Hey, are you looking for the 5 best WordPress lead generation plugins for your website?

Lead generation is one of the crucial tasks for every online business. If you too have a website through which you manage all your business you must have a good lead generation tool which captures all the emails on your website or blog. Most of the side admins prefer WordPress because of the superb features and controls it offers. If you too have a WordPress website or blog then we are going to tell you the best WordPress lead generation plugins that you can use to capture all the leads. Learn how to start an llc in simpler steps from MoneyBrighter.
A good lead generation plugin will take your business to the next level. The reason that one should go for WordPress lead generation plugins is there ease of use, multiple formats at the offer. You can capture leads with the help of floating, random pop-ups, scroll boxes,etc the best thing about WordPress lead generation plugins is that it allows you to customize your pop-ups according to the audience on your blog or website. Integration is quite easy with these plugins.
Don't miss our article on: How To Secure Your WordPress Website from Hackers

So below we have shared some of the best WordPress lead generation plugins that you may try on your website or blog. Though there are many Wordpress lead generation plugins available in the market we have picked the best ones for you. Here you go:--
5 Best WordPress Lead Generation Plugins
1. OptinMonster
This is one of the best WordPress lead-generation plugin that we would suggest to you. It has some awesome templates which have been designed to Grab maximum leads out of your traffic. The templates are quite attractive and they will definitely help you to convert your traffic into leads and customers. it offers the maximum customization according to the geographic location of your visitors and their preference. The best part about this plugin is that you can send individual messages to your readers according to their specific needs and locations.  OptinMonster Lead generation plugin offers a lot of features but we will list some basic features of this plugin.
Targeting exiting visitors: With OptinMonster you can create customized templates and campaigns for those readers which are about to leave your blog or website's page and can target them right at the moment they are about to leave.
Targeting Repeated Visitors: Another option that it offers is to target those visitors which are coming again and again to your website or blog
Onsite Triggering: Interaction with your visitors is must if you want to turn them into customers. You can Trigger visitors which are active on your blog or website in real-time
Targeting with the help of cookies: You can design custom browser cookies based on the behavior, duration, and preference of the users on your website or blog. This will help you to gain more and more conversions and your visitors will turn into your customers. Isn't that cool? ;)
2. Thrive leads
Another plugin that I have added to our list of best WordPress lead generation plugins is Thrive Leads. Thrive leads offer limited functionality and controls but still you can design beautiful templates and campaigns for your visitors. It will really help to convert your readers into customers. The type of offers and campaigns that you can design with the help of thrive leads plugin are 2 Step opt-in forms, lightbox popups, sticky forms, etcIt also offers A/B testing maximum conversions. The only drawback with this plugin is that it may slow down the speed of your WordPress website but it is still worth using!
Also read: 7 Must Have WordPress Plugins for Bloggers
3. MailChimp for WordPress 
MailChimp is another email marketing and leads capturing service that provides you free usage up to first 2000 subscribers. You can use it for free for the first 2000 subscriber on your blog or website. After that, you need to go with the paid version. You can design some basic forms and integrate them with the campaigns checker forms etc. Newsletters are the best way to stay in touch with your website's subscribers. MailChimp for WordPress helps you to design beautiful newsletters. You can also design appealing signup forms and then can place them in the left or right widget area of your blog or website. A lot of professional bloggers and business websites users are already using this lead generation plugin. So, if you were looking for the top WordPress Lead generation plugins then it may solve your problem.
4. Bloom by Elegant Themes
The next plugin which we have added to the list of best WordPress lead generation plugins is Bloom by Elegant Themes. It offers you around 105 predesigned templates. The templates are undoubtedly beautiful and will attract people to fill those forms. In the lead generation process, more form fill-ups mean more chances of conversions. You can make necessary customizations to borders, edges, the font styles and the layout of the forms. You can design different campaigns according to the users choice and can run them in different geographic locations.
The type of popups and customizations that you can create with Boom are random popups, fly-in, inline, below content, widget area, and the attractive content lock.
Just like the OptinMonster Lead generation plugin, Bloom also provides you the option to create triggers for your website readers and visitors. The various types of triggers available are:-
Time-based Delay: A pop up will fly in after a specific time period of users activity on the website. You can set the time accordingly
Bottom Section of Post: As soon as the reader visits the bottom part of the post you can display an optin form.
After Scrolling: You can show custom optin forms when the user scrolls down a page to a certain level.
After user comments: You can design separate opt-in forms for those users who are actively interacting with your content by leaving their feedback and comments.
After users buy: Through this, you can show an Optin after visitors buy your service or product.
For inactive users:  You can trigger the users who are inactive on your blog or website.
5. WP Subscribe
This another free Wordpress Lead generation plugin that you can activate on your blog or website. The best part about this plugin is that it is lightweight and will not make your Wordpress blog or website slow. It can easily be integrated with top email services like MailChimp, AWeberetcIt offers a long list of customizations for your blog. You can create beautiful custom subscribe forms for your Wordpress blog. You can add those subscribe forms to the right/left widget area or wherever you wish.
Some of the features that this lead generation plugin offers are:-
Custom subscription forms
Custom colours
Easy integration with the Emails
Time-based triggers
Timed Delays
Cookies controls
Final Words:
So, these were the best WordPress lead generation plugins that you can use. We bet that they will definitely boost your business if you use them in the right manner. So, what are you waiting for? Install and activate your favourite lead generation plugin today and start getting leads for your business. If you have any queries regarding the usage of these plugins, you can ask us in the comments section below. Stay tuned with IndiBlogHub for more Blogging Tutorials, tips, and Wordpress How to's