IndiblogHub V2. is Live!
Hello There,
       Hope you are doing great!  We would firstly like to thank everyone for the love & support shown towards IndiBlogHub platform. Its been approx 1.5 years we had launched IndiBlogHub with a vision to build a platform for Indian Bloggers to let them connect with other bloggers & grow their connections. In this duration, we had made numerous updates to our User interface, also added lots of features & organised several paid contests & campaigns.
We have received messages for appreciating our work through e-mails, social channels, calls & messages from our bloggers. But there was something that our users had pointed that they had found this platform more a Blog Directory. Despite we offered a lots of unique features for bloggers including paid campaigns & contests, still it was scattered in the approach of making it a platform.
After undergoing those feedbacks... we had decided to rework on our platform & now after 1 month of brainstorming & technical guidance, we are ready with a new version of IndiBloghub. We're finally done, and here's what's changed:
Dashboard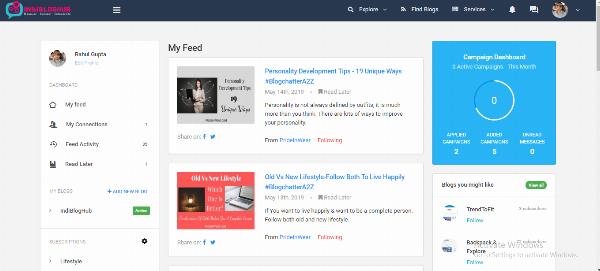 Some of the new features includes:
1. Interest based Subscriptions:
Whether you love exploring new places or trying out new cuisine, keeping your self updated with tech world or love to follow what celebs are wearing, we got all these covered. Simply follow topic based on your interest & we will curate top contents from each topic you follow.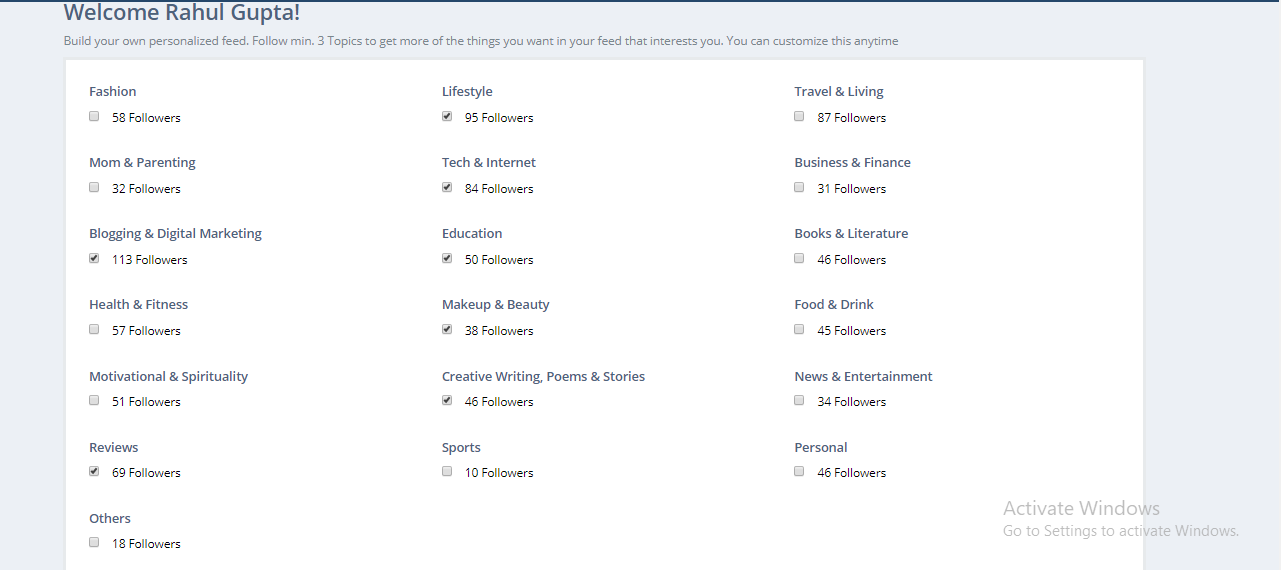 2. Follow your favorite blogs and discover new ones:
Discover blogs through recommendations, our popular pages or through the community on IndiBlogHub. The more blogs you followed, the more fresh content will be shown on your feed. 
3. Read later:
It's an easy way to access all your favorite posts at a single place by clicking "Read later". The saved posts can be found in left sidebar link "Read later".
4. Feed Activity:
Nobody likes to see same posts again & again which we already viewed. So we tried to keep feed fresh always & update it every 1 hour with fresh content from blogs you followed. Visited posts will be merged into left sidebar link: "Feed activity".
5. Service Provides:
We understand that as a blogger, there are a lot of things that you keep looking to make your blog run profitably including SEO services, Content writing, Wordpress developers, Hosting & lots more.... 
So for now we had introduced "Content Writing Services" where you can get a professionally made SEO content from handpicked writers by IndiBlogHub Team.
6. IndiBlogHub Blog, Lists & Interviews
We have moved all Blogger Interviews into our own managed Blog. With this we have introduced "Lists" which will be a curated collections of good tools & resources.
What's next?
You can expect upgrades to IndiBlogHub Blog, Dashboard, a few new initiatives and a new product that's going to change the way you use IndiBlogHub . Let us know in comments how you like the new approach towards Blogging Community. Whats your favorite feature you like and any  improvement/suggestions most welcome
Till then. Keep blogging!