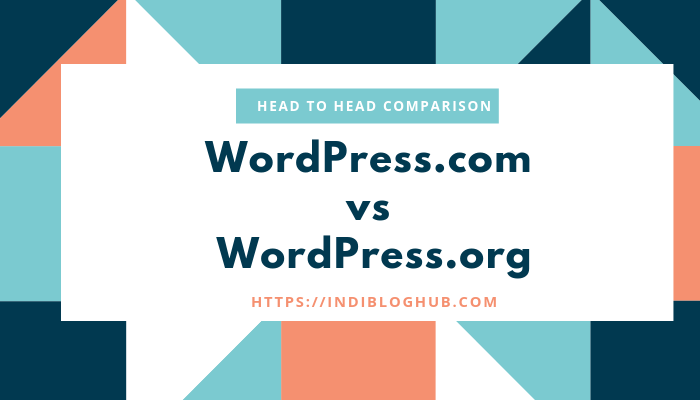 WordPress.com vs WordPress.org | Which Version Is For You?
Looking to build a website on WordPress, but not sure whether to go with WordPress.com or WordPress.org? Our comprehensive guide compares both versions and helps you choose the best fit for your needs. Learn about the pros and cons of each platform, their differences in pricing, features, customization options, and more. Make an informed decision and take the first step towards creating your dream website today!

If you are starting a new blog or website and confused about Wordpress.org and Wordpress.com then you are at the right place. Let us have a brief overview of the Wordpress. Wordpress is basically an open-source content management system which allows you to design websites or blogs. Wordpress is one of the most used content management systems around the globe. Wordpress has a large market share as compared to other CMS available in the market. Wordpress is available in two versions, one is the Wordpress.com and another one Wordpress.org In this article we will help you to choose the best one according to your needs and budget.
More about Wordpress.com and Wordpress.org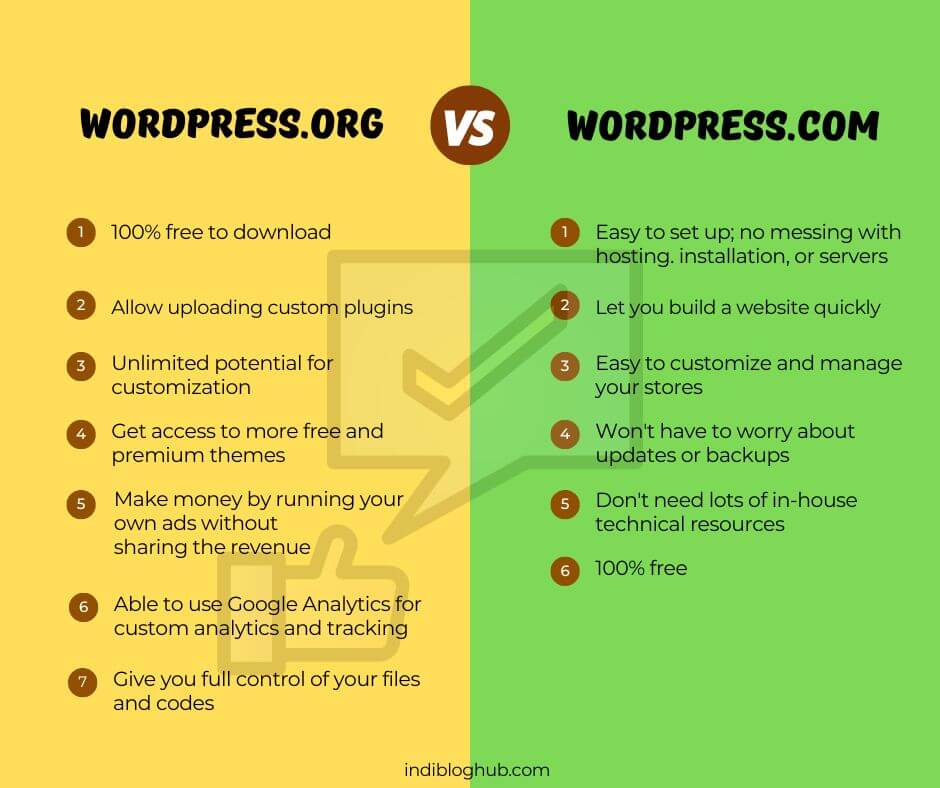 Wordpress.com is the non hosted version of Wordpress. It is run and managed by Automattic whose founder is Matt Mullenweg. It gives you limited features and controls as compared to the Wordpress.org version of Wordpress. On Wordpress.com you do not need to buy a domain name( free version) and hosting as we do in the self-hosted ( Wordpress.org version). Everything is managed by the company Automattic. You just need to Sign up, choose the theme which best suits your website or blog and start publishing the content. The free version of the Wordpress.com allows you to choose a name for your blog but the site's name has the suffix .wordpress.com  example:--  blogname.wordpress.com For your own custom name you need to buy the paid version of Wordpress.com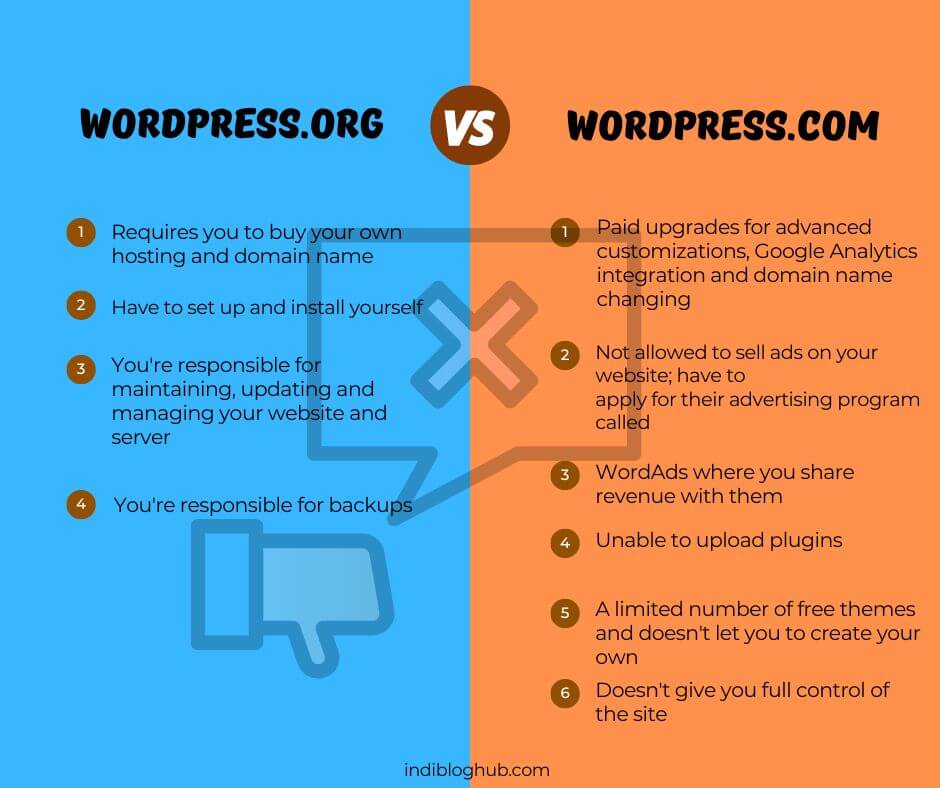 The Wordpress.org version is the self-hosted version of Wordpress. It offers you more functionality and allows you to do maximum customizations to your blog or website. For this one, you need to buy a custom domain name of yours and also a good hosting for your blog or website. A domain name is the identity of your blog or website. A good hosting may cost you somewhere around 3500-6000 INR ( basic for 1 website). Let us read more about the features of Wordpress.org and Wordpress.com website.
Features of Wordpress.com and Wordpress.org versions
1. Controls
Wordpress.org offers you full functionality. You can do the customizations in the way you wish to. It allows you to publish content and make changes to it as you wish to. You can add as many tools as you want. Your blog or website will look more beautiful as the control is in your hands. You are the boss of your website or blog
Wordpress.com offers less functionality and controls as compared to the self-hosted version of Wordpress. It is controlled and managed by Automattic and you don't have full control over the customization of your blog or website.
2. Plugins
Wordpress.com offers you a limited set of plugins and that too are preinstalled by default. You need not install the plugins from your end. Plugins make your task easy. Some of the basic plugins that will be provided to you in the Wordpress.com version is Google analytics, Social media plugins to gain more reach for your content and basic contact forms. You can not install other plugins on the site designed with Wordpress.com and that's the major drawback.
Wordpress.org gives you the control over plugins. Plugins makes the customization of your website easy as you don't need to code for making design and other changes to your website. A website requires a lot of things like social media sharing, tracking traffic, activating email subscription, adding various buttons, managing contact information of users and this can be easily managed with the help of plugins it provides. With wordpress.org version you can add your favorite plugins. Some of the must-have plugins that you should install on a self-hosted Wordpress blog or websites are Contact Form 7, AkismetAnti Spam, Social sharing plugins, etc
Don't miss our article on: 5 Best WordPress Lead Generation Plugins

3. Themes
An elegant theme enhances the beauty of your blog or website. Wordpress.com gives you a good range of free themes. You can use any theme of your choice. The only drawback is that if you are a developer then you can not make changes to the code of the theme. Theme editing helps to do the desired changes in our website. We can customize it according to our needs.
Wordpress.org version gives you the feature to make necessary changes to your blog or website's theme. It gives you the option to make manual changes to the code of the theme. Wordpress.org too gives you a wide variety of themes (both free and premium) If you run an e-commerce store then you can find some superb themes for your store in just 50-70$ These are the reasons we prefer the Wordpress.org version over the Wordpress.com version
Wrapping up
So, these were the basic differences between the self-hosted and Wordpress.com version. We personally prefer Wordpress.org because of the unlimited controls and features it provides. So, we would suggest you to go with the Wordpress.org (self-hosted) version of Wordpress. Rest depends on your needs and budget.
Related Articles